The local coverage of Tuesday's rally is starting to roll in. Click on article headlines below for links to full text. First, however, here are a couple photos courtesy of Eric Hegwer Photography. Click on the images for larger versions.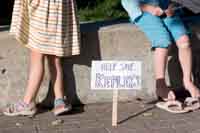 San Jose Mercury News: Noted Book Dealer Backed:
People stepped up at a rally and city council work session Tuesday and pledged their talents, dollars and support to re-open Kepler's, the beloved corner bookstore in Menlo Park.

"I'm going to try to say this without breaking down," Clark Kepler said to the cheering crowd outside his shuttered shop. "We're not dead yet."
….
Outside the city council meeting, Daniel Mendez, co-founder of Visto, a Bay Area high-tech company, said about 10 to 15 potential investors have already stepped forward. They're all book lovers
San Mateo County Times: Hundreds rally to support Kepler's:
The crowd was hopeful and hundreds thick at a city-organized rally Tuesday to support keeping their beloved Kepler's open, this city's independent bookstore that abruptly closed its doors last week when the money ran out.

Ranging from children to seniors and politicians to patrons, their cheers were extra loud when they heard Clark Kepler, the store's owner, proclaim from the plaza outside his locked and darkened store, "We are not dead yet."
San Francisco Examiner: Hundreds turn out for Kepler's rally:
Hundreds of community members showed support for their favorite independent bookstore Tuesday, rallying in the plaza outside Kepler's Bookstore and then congregating in City Hall, where the City Council hosted an idea-gathering meeting aimed at saving the store from bankruptcy.

Kepler's closed its doors suddenly last week after 50 years of selling books on the Peninsula. The closure has sparked a wave of support from elected officials, former politicians, lawyers and literary agents, all pledging to help owner Clark Kepler reopen the store at its current El Camino Real location.

"I want to do this fast," Kepler said. "I am optimistic [that it can happen]."
Also, in the San Mateo Daily Journal: Rally to save Kepler's.
And on CBS 5: Menlo Park residents rally to save bookstore
Radical Reeves has a post on his blog about the rally and gives a good summary of the meeting afterwards.
Here are some photos by MaryLynn on Flickr.