Barry Zito to the Giants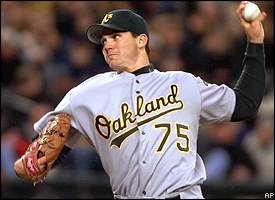 According to Sports Illustrated, the Giants have signed free-agent pitcher Bary Zito to a seven-year deal worth $126 million. From the Times:
In pursuing Zito, the Giants took the same route as the Chicago Cubs did with signing Alfonso Soriano to a $136 million deal. They offered a contract worth so much more money than what other teams had offered that Zito could not resist snapping it up. Pitchers do not usually receive as handsome a contract as do position players, because the stress pitching places on their bodies makes them more susceptible to injury. But the Giants, eager to find a new face of the franchise after leaves, felt compelled to offer Zito the most lucrative deal for a pitcher in baseball history. The previous largest was Mike Hampton's eight-year, $121 million deal with Colorado before the 2001 season.