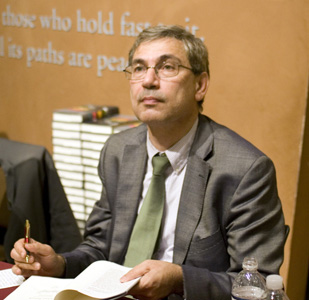 By chance I discovered that Orhan Pamuk was reading at the JCC in San Francisco last night. Unfortunately, tickets were sold out. And yet, I decided to drive up to the city after work, anyway, to see if I might be able to score a ticket by standing outside on California Street. I happened to also be very hungry during the drive, and couldn't help but make a sushi stop at Whole Foods before I got to the JCC. By the time I did arrive, it was 8:07 pm, and I was seven minutes late for the event and probably 15 minutes late for my chance at buying a ticket from someone going in with an extra. So, I went over to the ticket booth on a whim, and asked if they had any tickets available. And indeed they gave me one. "How much is it?" I asked, and the girl at the booth told me, "Don't worry about it." (Free ticket to see Orhan Pamuk! And I got sushi!)
I absolutely loved the event and am going to see him again tomorrow evening at Stanford. Some of the things I remember from his talk at the JCC, which will be broadcast on November 12 at 8 pm on KALW 91.7 FM:
The central work of the writer is spending a lot of time alone in a room, looking inside yourself and putting what you find on the outside.
Pamuk paraphrasing Adorno in response to a question about the writer's position at the border of his culture: "Morality is to never feel at home anywhere." The actual line from Adorno, which I looked up afterwards: "It is part of morality not to be at home in one's home."
Pamuk's comments on always falling into depression when he reads the English translations of his work because English is the one other language he understands well enough to be critical of.
Overall, I came away from the event reminded of my love for both writing and reading, and I look forward to finishing up Pamuk's Other Colors and then diving into Snow.