Big-Box Swindle: a diatribe against chain stores
Stacy Mitchell's book, Big-Box Swindle, opens with an anecdote about the resurrection of Kepler's in the fall of 2005, and in which this blog played an instrumental role.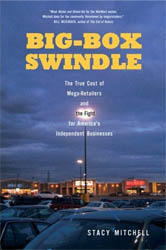 Her book, which is a well-researched diatribe against chain stores, received coverage in Business Week last week. I haven't read the book yet, but judging by the review, it doesn't seem like Mitchell's research really offers anything new:
While chain stores were already a presence by World War I, changes to the federal tax code in 1954 turned them into tax shelters. Within three years, new shopping center construction had increased more than 500%; Wal-Mart, Target, Bradlees, Kor-vettes, and Caldor are among the retailers that soon appeared. These days, local governments lure the chains with generous subsidies and tax breaks, thinking the stores will bring jobs to town. Mitchell, building on her own and others' research, counters that the boost "is nothing more than an illusion." The stores do create hundreds of jobs, but eliminate just as many by forcing other businesses to downsize or close. The tax dollars they generate are offset by lost sales and property tax revenue from local business districts and shopping centers. A 2006 working paper by the Public Policy Institute of California examined several markets and found the opening of a Wal-Mart resulted in a drop in countywide retail earnings of 2.8%.